WELCOME TO GOVINDA'S
Govinda's Vegetarian Cuisine welcomes you to our restaurant.
We strive to offer you the best and humblest tastings with dedication to quality, healthy living, and a higher taste. Govinda's uses the finest ingredients to prepare fresh vegetarian meals every day with a diverse variety of dining options. No Garlic, Onions and Mushrooms are used in our preps.
We want to personally thank you for being part of our values and traditions through good food, good friends, and the healthy alternative dining experience. Remember: Every Wednesday, Friday and Sunday – we serve all Vegan menu items. Follow us on our social media accounts to discover special menus on weekends.
*Wednesday, Friday & Sunday – all #Vegan Menu!
Fresh Salad with Fresh-made dressings, Fresh-made Roti, Papadam and Chutneys are served daily.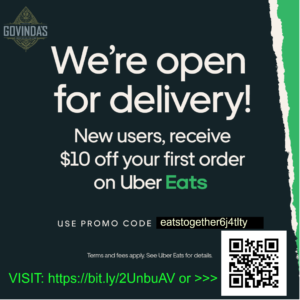 UberEats can bring the yummies to you now!
Click to order (Get 10%off first order)
#SupportSmallBusiness
WEEKEND SPECIALS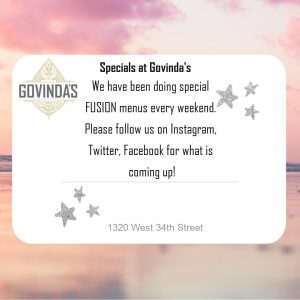 Some Special Events Include:
New Year's Day

Valentine's Day

St. Patrick's Day

Easter

Mother's Day

Father's Day

Independence Day

Thanksgiving Day

Christmas Day
MONDAY – SUNDAY
Dine-In | Carryout | Curbside