OUR COMMITMENT
The menu at Govinda's uses fresh ingredients and a variety of spices – giving each dish and a bite a unique flavor of India. If you have a special craving for an item, best thing we can suggest is to call us (832) 831-9951 or see today's menu. Our menu items change daily.
On Sundays, Wednesdays and Fridays – we only serve vegan items. Many of our offerings are Gluten-Friendly.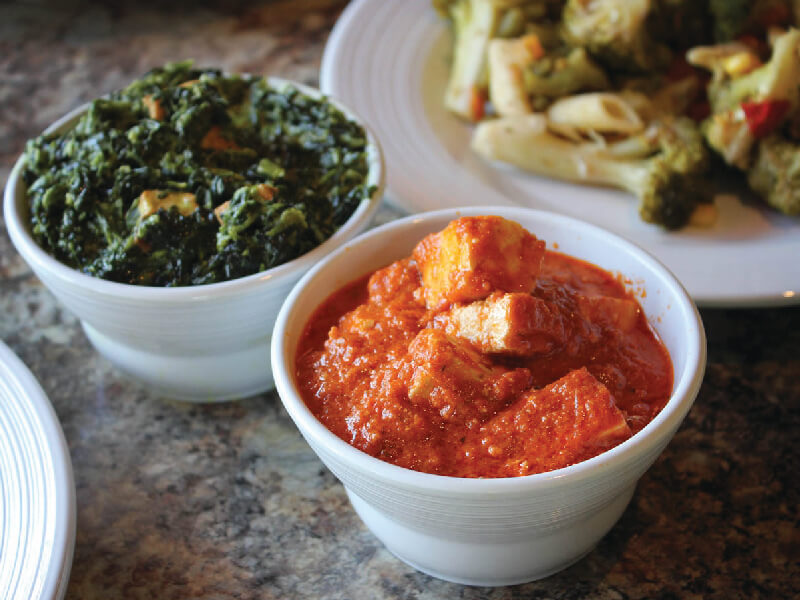 LUNCH: 11–2:30 | DINNER: 5-9 
Here are some of our daily rotating items:
BBQ Tofu [Vegan, Gluten Friendly] Tofu cooked in Tomato sauce
Baingan Bharatha [Gluten Friendly] Eggplant/Tomatoes cooked with Yogurt
Bhindi Masala [Vegan, Gluten Friendly] Okra and Potatoes
Chana Masala [Vegan, Gluten Friendly] Chickpeas cooked with Oil and Spices
Dal Fry [Vegan, Gluten Friendly] Chana Dal & Moong Dal cooked with Ginger, Oil
Dal Makhni [Vegan, Gluten Friendly] Black Urad Dal & Rajma cooked with Oil
Malai Kofta – Cauliflower/Carrot/Potatoes/Tomatoes/Cheese cooked with Oil
Mix Vegetable Pakora [Vegan, Gluten Friendly] Vegetable with Chickpeas Flour battered / fried
Navaratan Korma [Gluten Friendly] Assorted Vegetables in rich creamy sauce
Paneer Tikka Masala – Paneer Cheese, Butter, Tomatoes, Bell Peppers
Saag paneer [Gluten Friendly] Paneer Cheese with Spinach in creamy sauce
Tofu Curry [Vegan, Gluten Friendly] Tofu cooked with coconut milk & Chickpeas Flour
Vegetable Jalfrezi [Vegan, Gluten Friendly] Mixed Vegetables, oil, Spices
Vegetable Kofta [Vegan, Gluten Friendly] Vegetables, Chickpea Flour, Oil
Veggie Pulao Rice [Vegan, Gluten Friendly] Rice, Vegetables, Olive Oil
Fruit Halava [Vegan] Semolina, Sugar, Fruit, Vegan Butter
Khir (Sweet Rice) [Gluten Friendly] Rice with Milk, Sugar
Vegetable Pakoras, Samosas with fresh-made Mint Chutney
Rice Pilaf
Papadam (roasted Lentil crackers)
Of course, we serve fresh salad items and house-made dressings, fresh roti/puri (flat whole wheat flour breads) daily
TO-GO MENU
Our Lunch and Dinner buffet can be purchased for carryout. For special orders, please call in advance.
Order and Pay online: GovindasHou.com/OnlinePay
APPETIZERS: Samosas, Mixed Pakoras, Paneer Tikka, etc.

CURRIES: Available in 8/16 oz. Paneer Makhni, Saag Paneer, Dal Makhni, etc.

DRINKS: Rose drink, Fruit juice, Coconut water, Carbonated water, Soda/Iced tea, Mango lassi, Mint Ginger Lemonade, etc.

EXTRAS: Rice, Chapatis, Raita (Yogurt with Vegetables)

OTHER: Pizza (special order)
SPECIAL EVENT MENU
Come celebrate favorite holidays with us – Vegan way!
For Special Events, We Serve ALL Vegan Menu Items.

New Year's Day

Valentine's Day

St. Patrick Day

Earth Day

Easter

Cinco de Mayo

Mother's Day

Father's Day

Independence Day

Thanksgiving Day

Christmas Day
Connect with us on Social Media

to find out more details.
11am to 2:30pm & 5pm to 9pm